Musings on The Truth About Alice
May 11, 2014 § Leave a comment
Everyone has a lot to say about Alice Franklin, and it's stopped mattering whether it's true. The rumors started at a party when Alice supposedly had sex with two guys in one night. When school starts everyone almost forgets about Alice until one of those guys, super-popular Brandon, dies in a car wreck that was allegedly all Alice's fault. Now the only friend she has is a boy who may be the only other person who knows the truth, but is too afraid to admit it. Told from the perspectives of popular girl Elaine, football star Josh, former outcast Kelsie, and shy genius Kurt, we see how everyone has a motive to bring – and keep – Alice down.
This w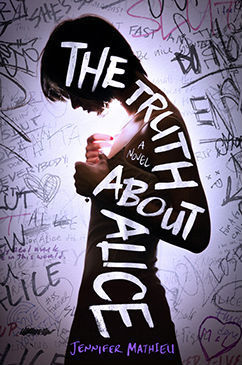 as a quick read for me, to pass the time between exam stress and such. I didn't love it but I didn't dislike it. It's kind of like a much darker and pessimistic version of Easy A, since both this book and that movie explore the same themes. However, whereas I love Easy A (granted, Emma Stone plays a huge role in that love), I only mildly enjoyed this book.
What I liked about this book was that it was an interesting concept and, for the most part, I liked how Mathieu dealt with it. The book was written from the point of view of a variety of characters, each narrative focused on Alice and the events that led to Alice becoming an outcast. I liked that the book ultimately didn't establish an opinion on Alice and the fact that she was regarded as "slutty." However, I felt that a lot of the differing narratives had forced voices that felt jarring in the story. There were a lot of stereotypes that were represented throughout the book (of popular girls, jocks, the genius, etc.) that were never explored or deconstructed so the characters often fell flat, seeming 2-dimensional and underdeveloped.
I also felt like there was no real resolution to the book. There was no climax, or actual development. It felt like a linear book for the most part, where we find out about the past and Elaine's party from various perspectives but nothing much really comes of this knowledge. None of the characters seem to show much change from beginning to end. I felt like Mathieu was often attempting to develop characters, but merely by telling us about this. Many of the characters voice regrets about their behaviour but none of them ever show any actual regret.
All in all this was a quick, enjoyable read and I would recommend it to people if that is what you're looking for. Any of you guys read this, and if so, what are you opinions?